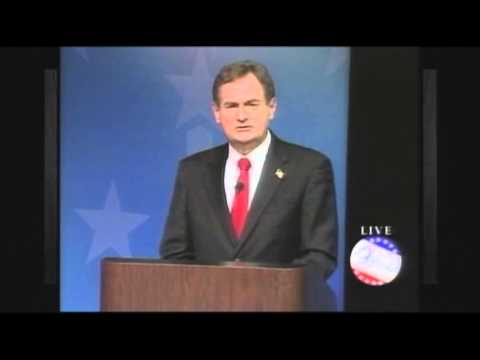 Transcript:  
"The only exception I have to have an abortion is in the case of the life of the mother.  I struggled with it myself for a long time, but I came to realize life is that gift from God. I think that even when life begins in that horrible situation of rape, that it is something that God intended to happen."
And the countdown to the Mourdock reversal starts in 3, 2, 1…
War on women?  What war on women?  That is just some Republican dude talking about how women who conceive children in rape are part of Gods plan so they should not be allowed to have an abortion.  There is no Republican war on women!
Mitt Romney cut an ad for Mourdock on Monday calling him the 51st vote to repeal Obamacare. Now, in a raging case of stage four Romnesia, Romney is scrambling to distance himself from that 51st vote, but won't say if he still endorses Mourdock.
Everyone expects this issue to cost Republicans a lot of women's votes. There should not be a gender gap on this issue. Men should be just as concerned about their wives, sisters, mothers and female friends who may have to face this issue. If men could get pregnant this would not be an issue at all. 
Remind me… just which party is supposed to be interested in small government and individual freedom again?  Give me a break.
Finally, I think it is notable that 31 of 50 states have child custody laws allowing rapists who father a child in rape, custodial and visitation rights to that child. Can you imagine an America where women are forced to give birth to their rapists child, then be forced to deal with their rapist for the next 18 years on visitations?   That vision of America is just unacceptable.