Hurricane Sandy is lashing the east coast and Romney wants to slash FEMA.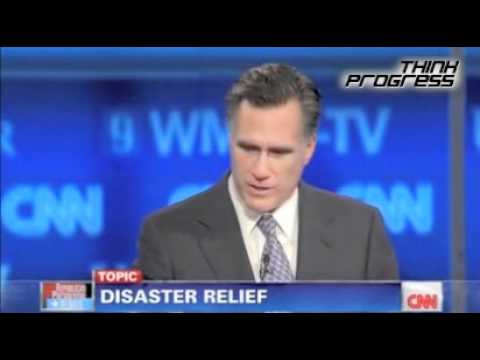 In the above video, during a Republican primary debate, John King asked Mitt Romney whether Federal disaster relief should be cut from the federal budget and sent to the states.  Romney said,
"Absolutely.  Every time you have an occasion to take something from the federal government and send it back to the states, that's the right direction. And if you can go even further, and send it back to the private sector, that's even better. Instead of thinking, in the federal budget, what we should cut, we should ask the opposite question: 'What should we keep?'  We should take all of what we're doing at the Federal level and say: 'What are the things we're doing that we don't have to do?'  And those things we gotta stop doing, because we're borrowing $1.6 trillion more this year than we're taking in."
King interrupts him and asks, "Including disaster relief, though?"  Romney continues,
"We cannot — we cannot afford to do those things without jeopardizing the future for our kids. It is simply immoral, in my view, for us to continue to rack up larger and larger debts and pass them on to our kids, knowing full well that we'll all be dead and gone before it's paid off. It makes no sense at all."
This displays Romney's corporate government extremism.  It is an astounding statement to say it is ALWAYS good to send some expenditure from the federal level to the states.  Without a federal government, there would still be slaves in America.  I realize that's an extreme response, but at its logical conclusion, that's where Romney's argument takes you.  Would Romney agree that the military should be relegated to the states?  What about Social Security?  With no federal government cobbling the country together, you'd have Somalian-level poverty in Appalachia and the South and Scandinavian-level quality of life in the North, Northeast and West Coast.  That could not possibly last as one country.  Is that really the answer?
Ask anyone who survived Katrina how well Louisiana helped them out in the aftermath of that storm.  That is the type of disaster relief that Romney is calling for.  We all remember the flooding, the chaos, the looting, the desperation, the murders, the bodies floating down streets.  Louisiana was categorically incapable of dealing with a category 3 hurricane.  Some disasters are simply too big for the resources of one state to deal with.  But virtually no disaster is too big for the federal government to deal with.  Natural disasters kill more people than terrorism every year, but Romney doesn't suggest relegating counter-terrorism to the states.  By the time Bush roused himself to fly over New Orleans, mobilize the federal government and fire his incompetent crony director of FEMA, it was too late for hundreds of people.  A faster, stronger federal response to Katrina would have saved hundreds of lives.
Romney's idea that we "can go even further" and privatize disaster relief is insane.  The same dynamics that make healthcare so expensive in the US, that allowed insurance companies to essentially write death sentences before Obamacare by denying coverage to people with pre-existing conditions, that allowed banks to prey on homeowners by selling them loans they couldn't afford and then betting against them, would take over disaster relief.  We would have predatory rescues.  You want to be saved from your roof-top?  Sorry, you have a pre-existing flood.  You're trapped in a collapsed building after an earthquake?  Sorry, we'll make a bigger profit by betting against your likelihood of escaping.  Virtually everyone caught in a disaster would suffer from privatized disaster relief.  The only people who would benefit are people like Romney who can pull a little out of a Cayman or Swiss account and invest in "Rescue Inc."
Romney's suggestion that we should reframe the budget debate around what we should keep rather than what we should cut is also lunacy.  Aiming a gatling gun at the federal budget would actually raise spending, because private contractors would take over the work for much higher wages.  Or, hundreds of thousands of federal workers would suddenly be unemployed, which would stall the economy just as the recovery is beginning to take off.  I, for one, vote that FEMA is something we should keep, because I don't want to drown in a flood, thank you.
Romney said that we should look at things "we don't have to do."  Romney believes that rescuing people from a disaster is not something that we have to do.  It's unnecessary.  Human compassion is a wasteful thing.  Screw your neighbors, let tornadoes fling them into the next county.  Wall Street tycoons' taxes aren't about to cut themselves.  Okay, actually they ARE about to cut themselves, but you get the idea.  We need to rein in the deficit.  By cutting FEMA.  And by cutting taxes.  Because 1-1=2.
I'm not sure that money has any inherent moral value as Romney suggests.  But I agree with him that we can't spend more than we take in indefinitely.  But can we start by cutting some of the invisible bombers we build every year to scare the Soviet Union which disappeared before anyone ever heard of Vanilla Ice?  And can we start by taxing some of the people who looted the middle class in 2008 by just a few percent more?  I think that would be a more "moral" solution for our children than throwing them to the mercy of for-profit disaster relief.  And then some of us won't be "dead and gone" quite so quickly.
This week, in the Northeast we are huddling up with loved ones, stockpiling canned food and water, listening to the radio and anxiously looking out the window.  It is almost inevitable that seem people will need to be rescued from flooding.  The damage will almost certainly be far too extensive for state governments to handle.  The federal government will likely have to save some people from disaster.  Those people could easily be your family, friends, neighbors or even you.  Based on what he has said, Mitt Romney thinks saving disaster victims is wasteful.  Pulling together as a community in an emergency is something we don't need to do.  Helping your neighbor is immoral, because it hurts money.  If Mitt Romney were president in a situation like Hurricane Sandy, his non-response would be far worse even than Bush's Katrina response.  There would be no better-late-than-never FEMA response.  There would be no FEMA.  Bush at least had the excuse that he was stupid and incompetent.  Romney has no excuse.  He only has the ideology that private profit has more moral value than the life of a human being.