The Principal and founder of a private school in Georgia brought down an avalanche of negative press when she insulted "all the black people" in the audience at yesterday's graduation ceremony. The Principal ended the ceremony and as the audience began to leave she realized she forgot the valedictorian's speech. When she tried to stop the audience from leaving, she lost her mind and told them how she really felt. Hat-tip to All Things Democrat alumnus Marc Belisle at ReverbPress for the story. Prepare to be stunned: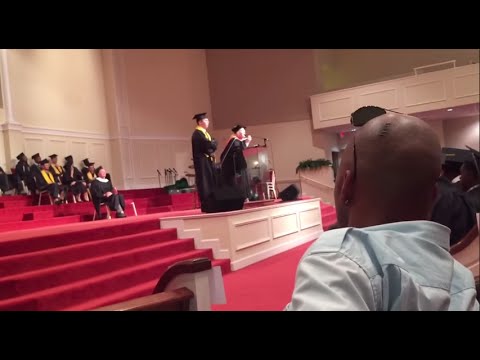 Here's the part of these all-too-common racist gaffs that always pisses me off – the non-apology/excuses slipped in with the apology. Basically, its "I'm sorry if you were offended, but I'm not sorry for what I said". CBS46 interviewed the Principal, who told the reporter:
I'm sorry this is getting all blown out of proportion because just part of the video is being seen and not the whole.

I'd like to apologize to everyone who was in the crowd. I'm sorry for what I said. Like I said, the devil was in the house.
WTVM.com-Columbus, GA News Weather
She told the reporter her remarks were "taken out of context" and she was only referring to one person who caused a problem. Replay the video again and you'll see that her "taken out of context" defense is total bullshit. She rants about the "little coward" who did something she didn't like, but then turns her tirade fully toward the crowd. She repeats "you people are so rude", orders her people to close the doors to prevent the crowd from leaving (probably illegal), and adds this:
It was my fault that we missed it in the program. Look who's leaving, all the black people!
Listen to her tone when she says "all the black people". Its a tone of disgust and loathing. She clearly means "None of us should be surprised that the rude people are all the black people, not the white people."
I don't care if she founded the school, she needs to remove herself.